ATM Networks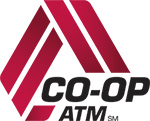 28,000 surcharge-free ATMs across the United States and Canada.
Website
Refine your search. Find ATMs outside the U.S. and Canada.
Mobile App
Download CO-OP Network's new ATM Locator app from the iTunes App Store.
Text Message / GPS
Text a street address or ZIP code or "City State" to 91989 (my coop) to find the closest locations. Then with the address, use your Maps App on your mobile device.
Call a CO-OP Network representative
Call 1-888-SITE-CO-OP for locations.