Receive tax benefits and save on medical expenses
A Health Savings Account (HSA) enables you to take advantage of tax benefits while you save for medical expenses, if you are currently covered by a High-Deductible Health Insurance Policy (HDHP)*.
With a Team One Health Savings Account you can:
Make tax-free withdrawals for payment of qualified medical expenses
Conveniently make deposits to your account in person, by mail, by electronic transfer or through payroll deduction
Earn interest on your account
Make withdrawals by check
View account balance online through Team One Online Banking
Receive a detailed statement including deposits and withdrawals
Contribute up to $3,550 for individual or $7,100.00 for family coverage per year.
Roll over your balance from year to year to accumulate your tax-free savings.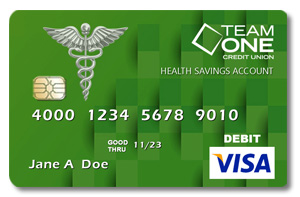 *HDHP Minimum deductible amounts for insurance are $1,250 for individual and $2,500 for family coverage. HDHP maximum out-of-pocket amounts are $6,350 for individual and $12,700 for family coverage.