Our Commitment to Our Community
The Community Impact Team is a service and volunteer division of Team One Credit Union and is comprised of employees and their friends and family. It was created in an effort to make a positive impact in the community.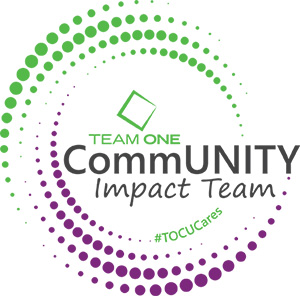 Team One Credit Union's mission goes beyond providing quality financial products and services to our members. We believe that by supporting local organizations through contributions and sponsorships and participating in many volunteer efforts, we can help make our community a better place to live and work in.
Within the month of August, TOCU staff volunteered at the following events:

 
National Night Out - Bay City

 

Cheeseburger Parade of Tropical Fools - Bad Axe

 

Project RED - Bad Axe

 

Exchange Club Trail Walk - Caro

 

The Crim - Flint

 

Walk for Hope - Saginaw

 

Impact Saginaw's CU at the Zoo - Saginaw

 

Friday Night Live - Saginaw

 
Staff members were also able to represent Team One at our annual Member Days, Impact Saginaw Food Drives, and several Thumb fair small livestock animal auctions!