Business Visa Credit Card
A Team One Business Visa® Platinum Credit Card offers businesses the flexibility of a larger line of credit with fixed rates of 10.9% APR* and No Annual Fee. Our Business Visa also offers the capability of tracking and reporting individual cardholders' purchases through online reports.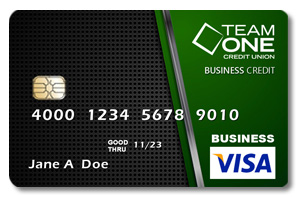 Contact Team One's Business Services today at 989-754-6575, extension 4046 to discuss how Team One Business Visa Platinum Credit Card can help your business.